These past couple weeks in Mexico have been beyond hot. While things are cooling down in the northern hemisphere, we're no where near what you'd consider 'fall' here.
So instead of my traditional healthy, golden milk version of a 'hot toddy' for winding down in the evenings, my family has been enjoying afternoon turmeric iced 'frappes'.
Everyone went nuts about this and my husband was insistent on me sharing this with you, so that you, too can enjoy it.
By now, you have the basics on making turmeric paste that you can make ahead of time, store in the fridge, and then take a teaspoon or two out at a time, when needed. If not, click here to watch my video on how to prep it.
Golden Milk Cold (or hot) Frappe

Here's my recipe for a pick-me-up for anytime of the day:
1-3 teaspoons prepared turmeric paste
8 oz milk or alternative milk
1-2 inches fresh ginger, peeled
1 teaspoon vanilla extract
1 tbsp honey, agave, maple syrup, monk fruit, or stevia (optional)

Note: If you're new to turmeric, the taste can be strong. It's also a powerful detoxifying agent. I would suggest starting with a smaller amount as it can have some unwanted reactions, in the beginning.
For us veterans, taking 2-3 teaspoons is usually fine, and when I'm dealing with a health issue, I take as much as my tastebuds can tolerate, to help reduce inflammation and detoxify my liver.

Use whichever sweetener you'd like. If you're dealing with blood sugar handling issues, I'd suggest something like stevia or monkfruit or just skip the sweetener altogether and maybe put in a bit of cinnamon (although this can also raise blood sugar, so just do what works for your own unique physiology).

Add all ingredients to a high-powered blender and blend until frothy.

This can be enjoyed hot or cold. For a hot drink, just put all of the above into a small saucepan and heat.

Enjoy immediately and share with a friend!
You'll learn:
how to prepare and consume turmeric
how much to take for your own healthcare needs
how turmeric works to reduce inflammation and pain
How to incorporate it into your daily routine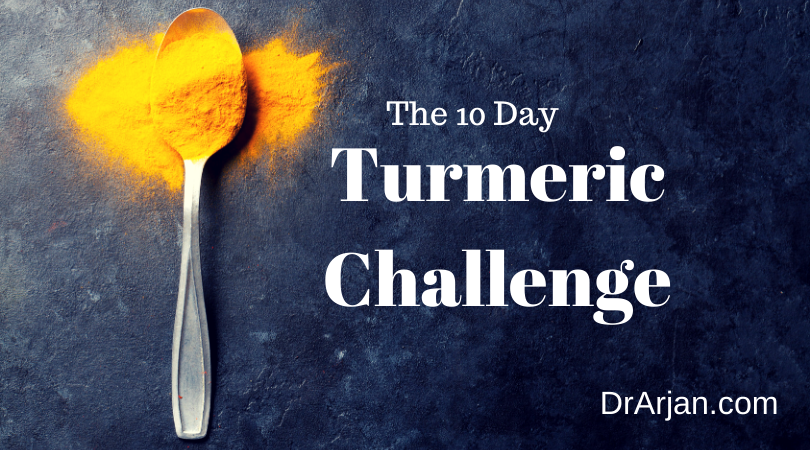 Find out what positive health effects turmeric can have on your health.
Easy 10 day program!
As the weather cools down here in the Northern Hemisphere, remember to take extra care with yourself and your health.
Getting more garlic, onions, turmeric, ginger and lemon into your daily routine helps to warm your body from the inside, making sure that your immune system doesn't need to work as hard to keep up with the change in temperature and giving it all of the strength it requires to keep you healthy.
I'm grateful for these cooler temperatures, the change in light, and the smell of the leaves as they finish their course here for the season.
Sending big hugs to you, wherever you
are in the world,
Dr. Arjan